Introduction
LG Display started something of an 'affordable IPS revolution' with their introduction of their E-IPS ('Enhanced In-Plane Switching') panels in 2008-09. Dell were the first manufacture to bring cost-competitive monitors using such panels to market with their 22" 2209WA and released some appealing 22" and 23" UltraSharp models the following year. ViewSonic and NEC also started employing these panels in their products whilst LG were quick to follow suit with their own range of self-branded monitors. More recently HP joined the 'revolution' ZR40w series, although these models were never really cost competitive with Dell's recent offerings and certainly fell short of the astonishing value offered by LG themselves.
Taiwanese monitor manufacturer AOC (Admiral Overseas Corporation in their early days) has seen rising popularity recently for their capable but highly affordable LCD monitors. It only seemed natural, therefore, that they would take their shot at the low-cost IPS market. That is exactly what the company has done with one of their latest releases, the AOC i2353Fh. This model features an attractive brushed metal chassis and an E-IPS panel yet is cost competitive with your typical glossy plastic TN (Twisted Nematic) panel monitor of similar size. The the monitor has been given the 'Ph' suffix in place of 'Fh' in North America and Asia despite being identical both inside and out. It is an impressive looking monitor both aesthetically and on paper. But in the monitor world, as in life, looks can be deceiving – this review reveals the monitor's true colours and explores AOC's 23 inch IPS monitor both inside and out.
Specifications
The basic specifications of the AOC i2353 is very similar to other E-IPS panel monitors of this size, with the light weight of the monitor, IPS panel itself and accompanying 178/178 degrees viewing angles being key standout features (highlighted in blue for your convenience). Other aspects to note include the energy-efficient W-LED backlight giving the monitor a 25W claimed typical power consumption and an apparent 5ms grey to grey response time. That response time is certainly one of the more audacious claims that AOC makes about this monitor but we will see how the responsiveness stacks up in practice.
Screen size: 23 inches
Panel type: LG LM230WF3-SJC1 E-IPS ('Enhanced' In-Plane Switching) LCD
Native resolution: 1920 x 1080
Colour support: 16.7 million (6-bits per subpixel + dithering)
Response time (G2G): 5ms
Refresh rate: 60Hz
Weight: 2.85kg
Contrast ratio: 1,000:1 (2m:1 Dynamic Contrast)
Viewing angle: 178º horizontal, 178º vertical
Power consumption: 25W typical
Backlight: W-LED (edge-lit)
Typical RRP as reviewed: £155 ($200 USD)
Features and aesthetics
The AOC i2353 is a monitor with its own unique visual identity. From the front you can see a rather fetching brushed aluminium surround with thin black trim in place of the usual chunky plastic. Further down you can see a uniquely shaped stand. The stand has a brushed silver plastic finish and attaches to the monitor by a silver plastic neck. The use of plastic here in place of metal is understandable given the cost of the product. It also makes the whole monitor remarkably light, although adjustability is limited to 14 degrees of backwards tilt and 4 degrees of forwards tilt.
You should also be able to see from the image above that the screen surface of the AOC i2353 is of the matte anti-glare variety. The haze seems a little less aggressive (i.e. haze value is lower) than on other similar monitors which use LG's IPS panels, such as the Dell U2312HM. The grain on light colours and reduction in image vibrancy still comes with the territory for such a screen surface, however. We have covered the technical reasons for the effect in this article and have given specific examples in our U2412M review. To that end we feel that it is good to be aware of the issues but also appreciate that it is not something that everyone will be troubled by. There isn't really a viable alternative with comparable specification to the AOC and an even lower haze screen surface.
Another point to note is that the base features touch-sensitive buttons at the top. They are non-illuminated but proved surprisingly responsive and due to the material choice they aren't a fingerprint magnet, either.
The next image shows the long 'edge' light that indicates the power status of the monitor. This glows blue when the monitor is on (as shown) or amber when it is in a reduced power state. The light is found at the front of the stand base beneath a clear plastic rim that runs all the way around the monitor. The plastic doesn't share the same 'glass-like' feel or refractive qualities of the Perspex used to accentuate light on some Samsung monitors – but this is a minor detail, really.
A more important consideration of the stand design can be found on its underside. The stand on the i2353 has an unlocking mechanism that allows the screen to collapse backwards so that it runs parallel to the base. The base also features holes for a 100 x 100mm VESA mount. This might look a bit funky and perhaps a bit unstable mounted to a VESA-compliant stand, but really this is a way to facilitate wall mounting without increasing screen thickness or flushness.
As you can see below this is a remarkably thin monitor (96mm), particularly amongst the IPS crowd. The LED backlight, external 'power brick' and base-centric VESA mounting and electronics all contribute to this slender profile.
Things are very minimalistic at the rear, too, with a mass of black glossy plastic and an AOC logo. The attachment of the monitor to the base is flush on new revisions but protruded outwards with connection higher up on some earlier revisions.
The monitor ports, which are found at the rear of the base and shown below consist of; two HDMI ports, a VGA input, audio output and DC input (power). It seems that a DVI port wouldn't quite fit on the i2353 whilst retaining the other ports. The HDMI ports will be a welcome site for some and allows the monitor to easily and directly connect to PCs, games consoles and other external devices. Some Nvidia GPUs may take a bit of extra setting up (see the calibration section of this review) so that they know to treat the monitor as a monitor and not an HDTV using this connection. AOC even include an HDMI cable with the monitor – often overlooked for monitor of this price even if it is the only digital input option.
As you will see from the rather haphazard video below, navigation through the AOC's menu system isn't exactly the most intuitive process. The 'select' buttons (left and right arrows) scroll down the menu options or switch menu page. The 'source' button, which is just to the right of the power button acts as an 'enter' button. The main menu button to the right of that acts as the 'up one level' or 'exit' button. It would have been nice to have additional up and down arrows and an enter button located near or between these navigation buttons. Needless to say this was difficult to navigate through whilst also recording video with the camera.
The menu system is laid out right across the screen on the i2353. Despite the graphics being a bit rough around the edges everything is well spaced out and appropriately labelled. Some interesting points to note on the 'Luminance' menu include the ability to enable 'Eco modes' (which adjust the brightness but nothing else and are therefore not true presets), the ability to select one of 3 predefined gamma modes and the ability to enable dynamic contrast (DCR). The next page is aptly labelled 'Color Setup' and allows you to select a colour temperature preset (default is 'warm'), adjust the individual colour channels and also select a DCB ('Dynamic Color Boost') mode. The DCB modes enhance certain image characteristics by emphasising (often oversaturating) specific colours. As with the 'Picture Boost' on the following page, which allows independent contrast and brightness control for a particular section of the screen, we feel this is a bit gimmicky. However; as with Samsung's 'MagicColor' this intensified saturation may be to some people's taste on some applications.
Calibration
We used a combination of familiar images, desktop backgrounds and icons as well as the Lagom website and a Spyder4Elite colorimeter to assist in setting up the monitor optimally. Straight from the box the image produced by the AOC was pretty decent really. It was a touch too bright and lighter shades in particular appeared a little less rich than they should. This was all rectifiable through the OSD. Colour balance can also be adjusted through the OSD, but on our unit the white point was very close to the daylight white point target of 6500K using our preferred gamma mode using the default 'warm' colour temperature. If you do decide to adjust the colour balance manually, note that the RGB sliders are knocked down to '50' in 'user' mode. The default behaviour actually has them up around 100 – so bring them up then reduce from there.
Brightness= 66 (adjust according to preferences and lighting)
Contrast= 50
Gamma= Gamma3
Color Temp= Warm
As is common for modern IPS monitors the default contrast (50 in this case) proved optimal. Raising the value much above this would bleach high-end detail whilst much lower dulled the image and began crushing low-end detail. The i2353 also features three numbered gamma modes. 'Gamma1' (which is the default) and 'Gamma2' both averaged 2.1 with the most significant deviation from the 'ideal' 2.2 in the lighter shades. This gave a relatively washed out look to the image. 'Gamma 3' yielded an average gamma of 2.3 with deep dark shades and lighter shades which held relatively close to the ideal 2.2 curve. The overall image was best balanced using this mode; hence this being used for the test settings.
Contrast and brightness
We measured the white luminance, black luminance and resulting contrast ratio at various brightness settings and our 'test settings' using a KM CS-200 'Chroma Meter'. All settings apart from brightness were kept at the default for all, except for our test settings where gamma mode was also changed. The peak white luminance, lowest black luminance and highest overall contrast ratio have been highlighted in black and all test setting results in blue for reading convenience.
| | | | |
| --- | --- | --- | --- |
| Monitor Profile | White luminance (cd/m2) | Black luminance (cd/m2) | Contrast ratio (x:1) |
| 'Custom', 100% brightness | 239 | 0.29 | 824 |
| 'Custom', 80% brightness | 206 | 0.25 | 824 |
| 'Custom', 60% brightness | 174 | 0.21 | 829 |
| 'Custom', 40% brightness | 141 | 0.17 | 829 |
| 'Custom', 20% brightness | 108 | 0.13 | 831 |
| 'Custom', 0% brightness | 75 | 0.09 | 833 |
| Test settings, 66% brightness, 50% contrast ('gamma3′) | 191 | 0.23 | 830 |
The performance of the AOC i2353 here was reasonable and pretty much in-line with other modern IPS monitors we've tested. The average contrast recorded only adjusting the brightness was 820:1. This is a little short of the 1000:1 specified but this is an almost universal value thrown around by manufacturers and is often not realised in practice. Because our test settings were essentially in-line with the factory defaults (apart from gamma mode) it followed that the contrast ratio would be similar. At 830:1 it was and this is quite respectable amongst 'post-calibration' values. The peak white luminance recorded on the AOC was 239 cd/m2 (just a whisker short of the specified 250 cd/m2) and the minimum was 75 cd/m2, giving a luminance adjustment range of 164 cd/m2. This may not sound like much but this luminance range should provide comfortable adjustment for many users in a wide range of lighting conditions.
As mentioned in the 'Features and aesthetics' section of the review the 'presets' of this monitor only adjust brightness so there was no need to test them. We did test out the DCR (dynamic contrast) mode, however. This was slow to react to even extreme loss of brightness, taking just under 20 seconds to dim the backlight completely from an all white to all black screen for example. Interestingly it was quick to response to increases in brightness, taking around 5s to reach full luminance after a transition from all black to all white. Generally this mode is best avoided as it is trying to adjust the whole backlight to compensate for the overall makeup of the scene – when in reality many scenes are a complex mixture of dark and light. If you do wish to make use of this mode the way AOC has implemented it is quite good as you can independently adjust the gamma mode, colour temperature and everything but the contrast and brightness – so you aren't stuck in some zany oversaturated preset.
It is also important to look beyond these central measurements and at contrast across the entire screen. Our i2353 review sample exhibited moderate excess backlight bleed-through along the bottom edge of the screen. This was most noticeable in a dark room as a 3 inch long patch of yellow 'clouding' along the bottom edge about 2 inches from the left corner. There was also a hint of blue bleed towards the bottom right although this was much less visible. This did seem to be exacerbated by the noticeable silver-blue sheen of 'IPS glow' and meant that even when viewing the screen from directly in front there was some loss of contrast at the bottom left and right of the scene in particular. It is important to note that levels of IPS glow should be similar on all units but the levels of excess backlight bleed-through can vary due to differing stresses during and post manufacture.
We also analysed the uniformity of lighter shades across the screen, best exemplified by looking at 'pure white' due to the relatively high luminance. Any variation seen here will also come into effect in a mixed image and again there will be a degree variation between units here. Measured luminance (cd/m2) and percentage difference from maximum (central) luminance is given in the table below. For this table recordings were made using a Spyder4Elite colorimeter at 9 equally spaced 'pure white' quadrants which run from top left to bottom right.
Results here are pretty reasonable overall with the highest reading in the centre ('quadrant 5', 195 cd/m2) and lowest reading directly below that ('quadrant 8', 171 cd/m2) – so a maximum deviation of 13%. The central quadrants ('quadrant 4' left of centre and 'quadrant 6' right of centre) showed only 3-4% deviation from the central luminance, which is good. This shouldn't cause any problems for the target market of this monitor – be it a photographer, designer or general user. Really if you feel that an even brightness uniformity across the screen is important then you should be looking to invest a lot more money in your monitor.
The graphic below shows this deviation with darker greys representing greater deviation (i.e. lower luminance) than lighter greys. Percentage deviation from centre is also given here for the quadrants and contour lines are present to represent where the greatest deviations occur (or theoretically should occur, based on extrapolated values).
During our game testing the contrast performance of the AOC i2353 was pretty decent overall with some shakiness at the low-end. First off we tested Battlefield 3 where the monitor had no trouble bringing out good distinctions between bright whites and surrounding darker colours. The underground and 'night' sections of maps showed this particularly well with lights, explosions and of course the fabled engineer repair tool having a good relative brightness to them. At the low end there was some noticeable loss of detail towards the bottom corners of the screen in particular. Here the 'glow' of the backlight drowned out dark detail. Elsewhere on the screen an appropriate level of detail could be seen in the darkness in most places. There was some minor detail loss in places but nothing particularly game changing, so to speak.
Dirt 3 provided a similar performance. At the high end the bright sun of the day and artificial lights of the night showed a good intensity. At the low end the game is fairly forgiving as even the darkest areas often appear lighter than they would in reality. There was still some loss of detail evident, particularly inside the car where niceties such as material texture and air conditioning vents were lost. We also analysed the contrast performance on the Blu-ray of The Girl Who Played with Fire – a film which features a goodly number of dark or dimly lit scenes. Generally the low end was represented well here. There was some loss of detail in the 'problem areas' towards the bottom two corners of the screen. These small details don't generally add much to the film and the overall distinctions and atmosphere was still good. If you are reading this as a movie aficionado and feel that minor low-end detail is important to you then you will probably want to avoid modern IPS panel monitors with their inherent 'IPS glow' entirely.
We also looked at the Lagom LCD contrast tests, which are designed to highlight even fairly minor weaknesses in a monitor's performance. This is what we observed:
The coloured gradient performance was reasonable. The darkest blue bar blended into the black background and the distinction between the background and other 'level 1' bars was not really distinctive. Elsewhere distinct brightness steps were visible.
Performance on the black level test was again reasonable. The first two blocks were pretty much indistinguishable from the background and the third was fairly indistinct. Elsewhere performance was good and there was no visible dithering, either.
White saturation performance was good with all but the final checkerboard pattern visible.
The greyscale gradient was very smooth without any banding. Some slight temporal dithering could be seen in the middle but static dithering was particularly well masked.
The contrast performance of the AOC was a mixed bag really with some weaknesses present at the low end. This is partly down to the 'gamma3' setting which makes some dark shades slightly deeper than intended – something that you could only really get away with if the black point was extremely low (which it isn't). 'Gamma2', at the other extreme, raises dark tones and improves low-end detail but makes the overall image look washed out. 'Gamma 1' is some way between. We feel that the overall colour benefits brought about by 'gamma3' outweigh these minor issues, especially considering that you will still be contending with the 'IPS glow', less than ideal black point and potential weaknesses towards the corners of the screen in any gamma mode.
Colour reproduction
The i2353's colour gamut (red triangle) was compared to sRGB reference (green triangle) under our test settings using the Spyder4Elite's reporting functionality. The results are shown in the image below.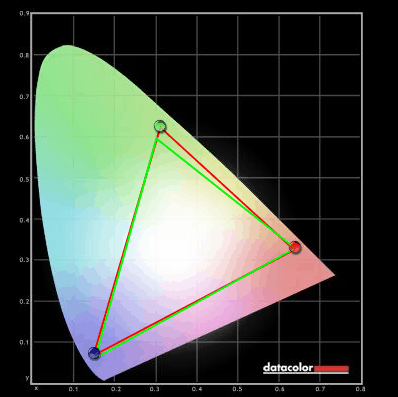 The monitor matches the sRGB reference gamut quite closely but extends just a touch further in the yellow-greens. Of course the colour gamut is only part of what makes up the colour reproduction potential of a monitor and the IPS panel itself brings a lot of benefits in practice regardless of whether you are editing photos, browsing the internet or gaming. On the first game title we tested, Battlefield 3, the colour palette is perhaps a little restricted and some may say 'odd' but things looked very much as the developers intended on the AOC i2353. Greens, for example, were varied yet each shade consistent across the screen. Earthy browns and neutral greys also looked appropriately natural without any unintended cast. No colours really stood out above others but this was partly due to good overall depth and richness across the board. On Dirt 3, our second game test title, environments were beautifully varied and natural-looking. The variety of greens from deep, dark and rich to lighter and brighter shades was captured nicely. This natural aesthetic also applied to the dusty khaki colours of the earth, dirt and dust of the various rally tracks. Each given shade showed good consistency throughout the scene to give a good range of distinct identities. Car paintjobs weren't quite as vibrant as we've seen but showed a good variety and richness. Some particularly impressive colours included rich cherry reds, bright sulfurous yellows and deep royal blues.
To round things off we tested two distinct Blu-ray film titles; Futurama: Into the Wild Green Yonder set in a colourful animated universe and The Girl Who Played with Fire set in real-world locations. The AOC created a good and appropriate atmosphere in both films. The Girl Who Played with Fire had a very natural look to the environments and character skin tones with an excellent variety of shades visible and consistently displayed across the screen. Futurama also benefited from this consistency with even large blocks of colour appearing distinct and individual without panning out into a gradient as you would see on TN panel monitors in particular. The spectrum of pastel colours on offer and even subtle differences in some of the character's skin tones was captured very nicely. As with the cars on Dirt 3 some of the bright neon shades (such as bright oranges, light greens, electric blues and pinks) were not as impactful and vibrant as we have seen but were still bright and distinctive. Certainly the variety of shades and distinct identity of colours helped counterbalance this effectively by giving a rich look overall in both film titles.
Viewing angles
As we have explored in the previous section the consistency of colours is a definite strength of the i2353 during game playing and film watching. These advantages also carry over to general use and make the monitor an attractive but relatively low cost choice for work requiring good colour accuracy. It is possible to analyse this attribute of the monitor even more closely by using Lagom's LCD tests for viewing angle. These highlight even minor variations in colour, gamma and brightness that can affect how the image will appear on a monitor. As expected the results here were relatively strong:
The purple block appeared a fairly solid lilac colour with a slight pink hue at the far left.
The red block appeared a solid red throughout, although the red appeared to lack depth with a slight pink hue.
The green block was impressively solid and deep with a touch of yellowing at the far left.
The blue block appeared a consistent and solid blue throughout.
The Lagom text appeared mainly a blended grey, confirming that the gamma curve of the i2353 is not greatly influenced by viewing angle. There was a hint of red on the text at the far left and a slight green hue at the far right but this was fairly minor.
The effect of viewing angle (including viewing from a decentralised position) on the Lagom text test, a mixed desktop background and a dark desktop background can be seen in the following video. On the dark desktop background and to a lesser extent the mixed desktop background you will notice flashes of blue moving about according to angle – this is the 'IPS glow' introduced earlier on in the review. The colours themselves remain relatively consistent compared to monitors with TN panels. Some of the nuances in this area are difficult to capture on camera but you should be able to see that compared to the TN panel monitors we have recorded similar videos for the contrast shifts are relatively minor and there is no colour inversion.
Response times
AOC quotes a fairly audacious 5ms grey to grey response time. It is important to see past such figures, taking nothing at face value. The first level of analysis uses a small application called PixPerAn (Pixel Performance Analyser) and a camera set to a high sensitivity to capture the results. The tempo of PixPerAn was set to maximum which is 'worst case' and often most revealing in this test.

The image from PixPerAn captured above shows a bold secondary trail, slight tertiary trail and even a very faint quaternary trail. This performance is not in line with other modern overdriven IPS panel monitors, such as the Dell U2412M. These tend to show a relatively faint secondary trail and (potential artifacts notwithstanding) no further trails as you can see on the U2412M under similar conditions.
Performance in PixPerAn on the i2353 was essentially similar to IPS panel monitors which lack grey to grey acceleration, such as the NEC EA232WMi. This rang true in our subjective assessments during gameplay, too, and reinforces the notion that specified response times must be treated with caution. On the first game test title, Battlefield 3, a moderate level of trailing was observed. This was fairly consistent and predictable with frequent blurring when strafing or running sideways. At high speed (such as whilst turning in a jeep) this blur became more pronounced. We didn't find any of this game-breaking and some users will find the pixel responses fine for this kind of game.
On our second game test title, Dirt 3, trailing was again omnipresent and manifested itself as a pronounced blurring of textures even during relatively gentle cornering. Again we found this tolerable but not ideal – sensitivity to this will vary. In the game's Gymkhana mode it certainly added a dizzying dimension to the gameplay and made it very difficult to focus on obstacles on other course elements – but this is an exceptionally fast paced scenario which can really highlight weaknesses in a monitor's responsiveness.
No particular problems manifested themselves during either of our Blu-ray film titles. Really the low frame-rate (under 30fps) at which the films run and inherent lack of fluidity is observable regardless of pixel response time on an LCD. For the sake of completeness we also measured the input lag of the monitor using a similar method to that in the S27A750D review but due to time constraints averaged over only 60 repeat measurements. The results were reasonably consistent and revealed that the AOC i2353 has around 16ms (1 frame) of input lag. This in itself shouldn't cause any issues for the majority of users. The felt latency from the combination of this input lag and relatively slow pixel response times may be too high for some people's tastes but only you can judge that for yourself.
Conclusion
The AOC is an appealing monitor on paper, boasting all the colour reproduction credentials of an IPS panel at a comparable cost to many of its 'lesser' TN panel brethren. It is also an interesting monitor on the outside, offering brushed metal around the screen in place of glossy black plastic. By housing its electronics in the base and utilising a slim WLED backlight it also maintains a thin profile that distinguishes it from your usual IPS panel monitor. But looking good on paper only gets you so far.
Fortunately a lot of that potential is realised in practice, too. The overall depth and richness to the image and consistency of colours is certainly pleasing. Having an IPS panel alone is not enough – the monitor must be configured in a way that lets the user use it to its full potential. Whilst the OSD (On Screen Display) of the AOC may be rough around the edges the image had a nearly perfect 'daylight' white point straight from the box. There was also a bit of flexibility with gamma to allow the image to be fine-tuned according to taste and allowing a respectable image performance to be achieved without any software-based intervention.
There were some weaknesses when it came to contrast which were partly down to the IPS glow inherent to this panel type. This was exacerbated by some moderate backlight bleed from the bottom edge of the monitor and the gamma tracking at the low end. There were also some weaknesses in the monitor's responsiveness with a pixel performance reminiscent of an IPS panel monitor without grey to grey acceleration. Not everyone will have an issue with this and will be able to happily use this monitor for gaming. However; it does go against the specified 5ms grey to grey response time which can safely be ignored in this case.
Despite the low-end contrast and responsiveness issues the AOC i2353 does offer you a lot for your money. No monitor on the market today can ever tick all the boxes but at under $200 (£155) this uniquely styled and well thought-out monitor is certainly a worthy choice.
Positives
Negatives
Good out of the box performance with well-balanced white point and a range of gamma modes
Some low-end contrast issues, 'IPS glow' and poor black uniformity
A well thought-out design with brushed aluminium bezel and unique VESA mounting solution at the bottom of the base
Limited adjustability with only a tilting of the screen possible
Good viewing angles and excellent colour
reproduction with good shade variety and consistency
Matte anti-glare screen surface limits potential colour vibrancy and introduces visible grain on white and light colours
Multiple HDMI inputs allows flexibility in device attachment
Moderate levels of trailing with grey to grey acceleration seeming absent despite specifications
Attractive price point
Regional suffix differentiation (Ph and Fh) is unnecessary and causes some confusion as the monitors are identical