Feb 17th 2010
Multitouch is becoming increasingly popular in the smartphone market, in tablet PCs and even in laptop touchpads. But one of the much raved about benefits of Windows, native touchscreen and gesture support, has also opened up a market for touchscreen desktop PC monitors. This is a market that Iiyama has been quick to tap into (pardon the pun) with their T2250MTS touchscreen monitor. We put this monitor through its paces by putting our grubby fingers all over it and find out whether touchscreen is the way forward for PC monitors or whether it's another computing techno-flop.
Specifications
A glance at the Iiyama ProLite T2250MTS specifications reveals a fairly standard (but rather heavy) 22" monitor with a full HD resolution and a passable response time, refresh rate and contrast ratio. But the Iiyama ProLite T2250MTS is no ordinary monitor, as embedded in the bezel are little infrared sensors that transform the T2250MTS from standard 22 inch monitor to fully functional touchscreen. We make full use of this capability as we get our grubby mitts all over it and prod and probe the monitor to reveal any flaws and failures.
Screen size: 22 inches
Native resolution: 1920 x 1080
Response time (G2G): 5ms
Refresh rate: 60Hz
Weight: 6kg
Contrast ratio: 1,000:1
Viewing angle: 170º horizontal, 160º vertical
Typical power consumption: 44W
Backlight: CCFL
Typical RRP as reviewed: £280
For an explanation of the above terminology, please read the PC Monitors technology article.
Aesthetics
The Iiyama ProLite T2250MTS has a conservative and dare we say fairly unexciting appearance. It is a boxy matte black affair that looks solid and well built, but not particularly stylish. Although not clearly visible in the photograph below, the screen itself is highly glossy and this is particularly evident due to the matte black bezel surrounding it.
Image source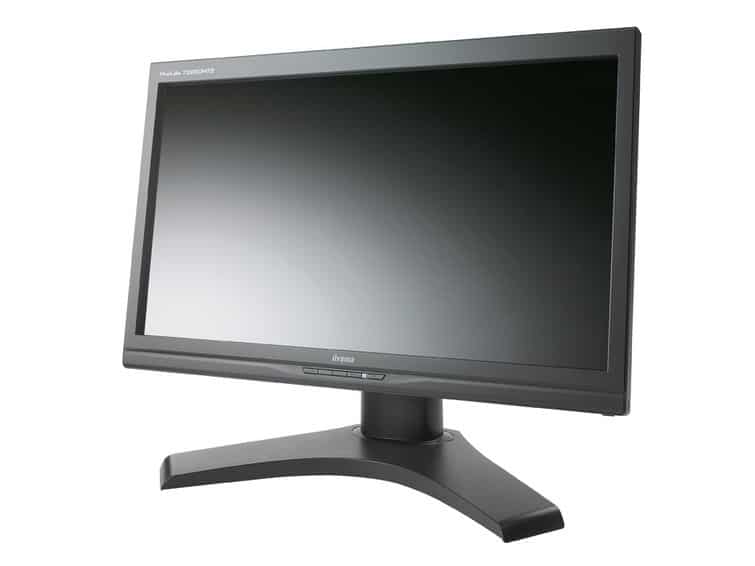 Iiyama Prolite T2250MTS front
From the side, the Iiyama ProLite T2250MTS is equally uninspiring and not particularly thin; but given that this is a CCFL-backlit touchscreen this is hardly a shock. You can see how solidly built the stand looks from the side, and this is evident in more than just its appearance. The stand can tilt forwards and backwards and swivel to the sides, but it is not height adjustable. The upshot of this fixed height is that you have a well-built and relatively sturdy stand, with minimum wobbling.
Touchscreen performance
Looks aren't everything in a modern PC monitor and as you've probably gathered by now, the beauty of the T2250MTS is in the uniquely implemented touchscreen technology. The monitor has infrared sensors embedded into the bezel, rather than relying on pressure-sensitive resistive technology. Resistive technology would require so much force that the monitor is pushed backwards if it is not supported at the rear, so this would be unsuitable for most desktop PC setups. We found this technology in the ProLite T2250MTS to be extremely responsive and easy to use, but it was also so sensitive that you could in fact control cursor movement without touching the screen at all. This means that unwanted finger movements can be picked up close to the screen so you must be careful when waving those pinkies about!
The multitouch (i.e. more than one finger at once) gesture support of Microsoft's Windows 7 opens up a world of possibilities with the Iiyama ProLite T2250MTS– pinch fingers to zoom in and out as well as image rotation, scrolling documents or webpages at various speeds, navigating forwards and backwards and clicking. The exact gestures supported are application-dependent, so you aren't currently able to pinch zoom in Adobe Illustrator, for example. Microsoft's Surface Globe, however, made excellent use of these gestures – allowing us to spin the planet and zoom in and out with pinches. It's kind of fun to use and this application is clearly intended for touchscreen use – but we didn't spend over £250 on a monitor to spin a planet around. It is also worth noting that the Microsoft 'Touch Pack', which includes surface globe, is only distributed by OEMs and is not included as a standalone pack or indeed bundled with the T2250MTS.
To see how multitouch gestures can be used on the Windows 7 desktop, take a look at the video below. The monitor featured in the video is not an Iiyama ProLite T2250MTS but the same gestures are supported.
As mentioned previously in this review, the screen of the Iiyama ProLite T2250MTS is highly reflective, so the bright light of day can cause some visibility issues. Surprisingly, though –fingerprints are generally not noticeable until the screen is turned off, although heavy build-up of grease does cause a noticeable decrease in the optical acuity (sharpness of the image). At this moment in time self-cleaning nanotechnology cannot be applied to affordable consumer PC monitor, so frequent cleaning is probably the best solution.
A monitor stylus can be found at the bottom of the T2250MTS's bezel, but for the most part fingers will suffice. If you have large fingers you may just find the stylus becomes your best friend when attempting to minimize windows and use toolbars on Microsoft Office applications – we actually found, at times, we became frustrated and reached for the mouse. In fact; we generally found that most of the poking of the screen accomplished tasks far less efficiently than simply controlling a cursor and clicking with a mouse would have done. It is also far more comfortable to use a mouse. Most PC monitors will be placed on the desk at arm's length from the user – you need space for the keyboard in front and you don't want it so close that it strains your eyes. An inherent problem when using this monitor is that you are constantly reaching forwards to use it, so to save your arms from aching too much you will only be able to use the touch functionality for perhaps a few minutes at a time.
It is worth noting at this point that as well as the 'standard' VGA and DVI-D connector options; the Iiyama ProLite T2250MTS comes with a USB connector which you will need to plug in to enable touchscreen support. You'll need a spare USB port; but this shouldn't be a problem for most modern PCs. The T2250MTS also features two 1W built-in speakers; a space-saving innovation which may appeal to some minimalists with 2-foot wide desks. The average user, however, will find a dedicated speaker setup or a quality set of headphones have no substitute.
Image quality
The image quality of the T2250MTS left a lot to be desired; at least for a monitor of this price. Colours were generally accurate with a fairly broad gamut and images were sharp – but the screen lacked the contrast, brightness and vividness which would make it attractive to movie fans and gamers. The recorded contrast ratio of just over 700:1 was not too far off the stated 1000:1, but it still left us wanting more. Although there was no ghosting to speak of with the 5ms response time of the T2250MTS, the smoothness of the experience was simply no match for the similarly priced Samsung Syncmaster 2233RZ. Although colour reproduction was comparable, this is of little consolation when the contrast and vividness of the image of the T2250MTS is surpassed by the 2233RZ, which uses a similar CCFL-backlight. But its apples and oranges really; the Iiyama ProLite T2250MTS is principally designed with multitouch in mind and anything else is ancillary.
Conclusion
At over £250, the Iiyama ProLite T2250MTS is expensive for a monitor which is essentially an absolutely average 22-inch monitor with touchscreen capability on top. Where space and portability are serious issues – such as in public displays or in mobile devices such as smartphones and tablet PCs, a touchscreen makes sense. But we speak for our whole body and not just our mind when we say that a touchscreen has no place on a desktop PC monitor. Twitching a mouse with your hand is simply more ergonomic and energetically sound than reaching over and poking away at a screen. Foregoing touchscreen support also allows you to say with authority 'don't touch my beautiful screen, you'll get it grubby' without looking like an idiot. But credit where credit is due – the Iiyama ProLite T2250MTS gets top marks for innovation. If you really need or really want a touchscreen PC monitor, you will find the T2250MTS responsive and a pleasure to use… until your arms feel like they're going to drop off.
PC Monitors score – 62%
To see the Iiyama ProLite T2250MTS in action, check out the video below: