Top 10 Monitors of 2010
Update: Please see our updated Top 10 list here.
This year has been a year of innovation in PC monitors with LED-backlit and 120Hz '3D' monitors taking centre stage. But there have also been a number of monitors released that have shown to be strong performers even if they haven't gone with the flow, so to speak. Here is our countdown of the best computer monitors launched in 2010 – but don't worry, they won't suddenly become obsolete in 2011.
10 – ViewSonic VX2739WM
The ViewSonic VX2739WM's claim to fame is that it is the world's first widescreen monitor with a 1ms response time. Although this may seem revolutionary to some it is really just a marketing gimmick and in most situations nothing more than a meaningless number. Nonetheless the VX2739WM proved to be a screen with good contrast, low input lag and a good pixel response time. The large screen size and current price tag simply extends the appeal of the monitor.
9 – ASUS MS238H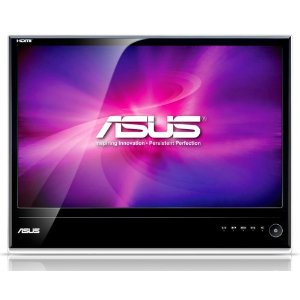 The ASUS MS238H is the flagship model of the 'Designo' range of computer screens that was launched earlier in the year. This is quite easily the most striking looking monitor range of 2010 with lots of piano black gloss, no stand visible from the front and a very thin side profile. But it isn't all about the looks. The glossy screen may bring some unwanted reflections, but it also enhances the contrast and vibrancy of colors and many reviews agreed that the contrast of the monitor was one of its relative strengths.
8 – HP 2010i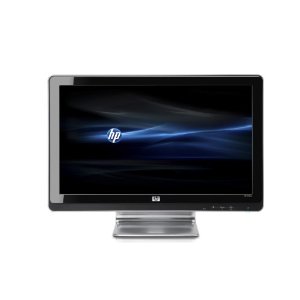 The 20″ size of monitor is often overlooked by manufacturers due to the current popularity of 22-24 inch models. Nonetheless HP included this size in their flagship range of LED-backlit PC monitors for 2010. The HP 2010i is just one of several sizes in the current range but fills not only the size gap but also a gap in ergonomics. It is one of the few glossy 'home' monitors that offers swivel adjustability on top of the usual tilt.
7 – Hanns.G HZ281HPB
The Hanns.G HZ281HPB represents one of the most affordable 'big screen' monitors currently available with a whopping 27.5" screen. What's more it is one of the few home-use monitors that currently sports a 16:10 aspect ratio and 1920 x 1200 resolution.
6 – Samsung SyncMaster PX2370
The Samsung PX2370's 'Touch of Colour' style may have been its main selling point, but this was always marketed as a 'premium' entertainment monitor by Samsung and you generally can't do this by looks alone. Thankfully the PX2370 proved its worth with good colour reproduction (especially for a 'TN panel'), a high level of responsiveness and above average contrast. The LED backlighting was also a key selling point, keeping the profile of the PX2370 thin and the energy consumption down.
5 – Samsung SyncMaster B2430H
The Samsung SyncMaster B2430H really set the standard for mainstream monitors in 2010. It stood out within its price range by offering build quality and image quality that simply outshone the competition. Despite the conventional CCFL backlighting this monitor sold very well and has consistently received positive praise from its many happy users – and you can add us to that list.
4 – ViewSonic VX2450WM
The ViewSonic VX2450WM was the flagship LED-backlit entry from ViewSonic; a company who has now gone down the LED-backlit only route. Usually adding LED backlighting to a monitor was simply an afterthought and often meant sacrificing image and build quality for a super-thin screen and some market kudos. Thankfully the VX2450WM is different as it offers pretty solid build quality, VESA mountability, and good out-of the box image quality. This includes very good natural color reproduction, pleasing contrast and high levels of responsiveness – all rounded off with a very reasonable price tag.
3 – Dell UltraSharp U2711
The Dell UltraSharp U2711 really is the king of the 27 inchers. It set a very high standard with its broad color gamut, 2560 x 1440 (WQHD) resolution and H-IPS panel. For the sheer color quality it drew in many potential users and is considered to be a fantastic all-rounder for everything from browsing the internet, to CAD/CAM, to movies and gaming.
2 – Dell UltraSharp U2311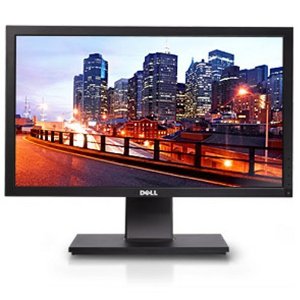 The U2311H represented a pivotal point in recent LCD monitor history. It blurred the line between the affordable 'consumer' monitor (TN panel) and expensive 'professional' monitor (high-end IPS panel) creating a hybrid affordable 'prosumer' IPS monitor. By utilising a new 'E-IPS' panel that maximises light throughput Dell were able to use cheaper backlighting solutions than the usual super-powerful CCFLs that light high-end IPS panels. Coupled with the more mainstream 16:9 aspect ratio and 1920 x 1080 resolution Dell kept affordability and the home user in mind whilst providing a real step up in image quality. The sensible fully adjustable matte stand is also welcomed by many people who never really felt the need or desire for a glossy fingerprint and dust magnet or fixed-height stand.
1 – Samsung SyncMaster BX2450
Samsung seemed to have really nailed it with their LED-backlit monitors that looked great and performed superbly. Deciding to further refine the 'Touch of Color' (ToC) appeal they added a lovely weighty chrome-topped stand and matte textured back to the BX2450 (and other monitors in the BX50 series). The fixed nature of the stand won't appeal to everyone and neither will the glossy Perspex that defines the ToC series but the image quality of the BX2450 also sets it out from the crowd. The range of colours and natural feel to the image is something that you wouldn't have ever expected to see from a 'TN panel' and the strong contrast performance and responsiveness just sweetens the deal further.
Honorable mentions
The BenQ EW2420 was the world's first LED-backlit VA panel monitor. What this means in simple terms is that the monitor shows truly excellent contrast that is unmatched by any other current LCD panel type. The semi-gloss coating on the screen helps accentuate this feature and really brings colors to life on the screen – even if the responsiveness does trail a bit behind other modern monitors. If it wasn't for the seeming variability of individual unit quality and current lack of availability this would probably be ranked quite highly in the 'best of 2010' chart.
The Acer GD245HZ is a solidly built solid performer. Featuring one of the more colourful stands of recent times the main selling point of the Acer GD245HZ is that it is a 24" 120Hz '3D monitor'. The image is bright enough to overcome the dulling effect of 3D shutter glasses whilst providing more than enough of a 'pop' in 2D viewing. Many people who follow PC Monitors religiously will be aware that we are reluctant to recommend any current '3D monitor' as better image quality can be had at all levels for a lower price. But that's not the main attraction of such devices and for some people, neither is stereoscopic 3D content. The trickle of 120Hz monitors that seeped out in 2010 offer high frame-rates and low input lag to provide advantages to gamers in 2D viewing. Perhaps it was our image snobbery that prevented us putting any 120Hz monitors in the top 10, but if you are interested in a solid performing 120Hz monitor for a price that is now more reasonable than ever then the Acer GD245HZ is worth a look. Especially if you like orange.